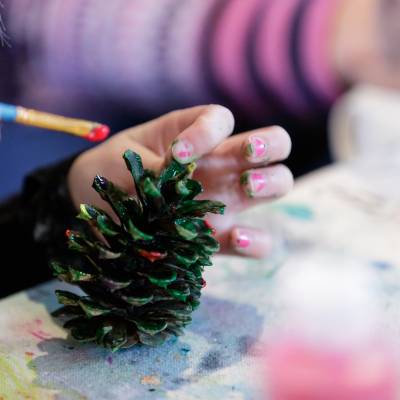 All Ages Pick-A-Project
+ Handmade Holiday
All Ages Pick-A-Project classes are a Saturday activity that the whole family can do together. During these classes, each participant may choose one project from a variety of creative activities that can be completed within the 90-minute session. An instructor will be present to…
All Ages Pick-A-Project classes are a Saturday activity that the whole family can do together. During these classes, each participant may choose one project from a variety of creative activities that can be completed within the 90-minute session. An instructor will be present to provide step-by-step instruction. Sessions are offered during three different time slots.
Pricing
Breck Create Members: $12 for adults and $7 for youth
Non-Members: $15 for adults and $10 for youth
The cost of the class includes materials and tools for one project.
Time Slots
9am - 10:15am (8 spots available)
10:45am - 12pm (8 spots available)
12:15pm - 1:30pm (8 spots available)
Age Requirement
Participants must be 6 or older to participate.
Instructor
Kia Neill
Check-In
For classes taking place on the Arts District campus, please check-in with the instructor at the class location.