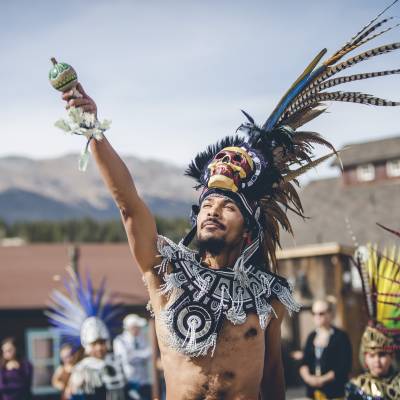 Presented by Breckenridge Grand Vacations
AZTEC DANCE: GRUPO HUITZILOPOCHTLI
Grupo Huitzilopochtli's Battle Dance is based on Aztec mythology and portrays two Aztec warriors. When one of the warriors perishes, his soul is greeted by another who leads him to his next life in the Aztec underworld of Mictlan, where the dead dwell. The sequence ends when the…
Grupo Huitzilopochtli's Battle Dance is based on Aztec mythology and portrays two Aztec warriors. When one of the warriors perishes, his soul is greeted by another who leads him to his next life in the Aztec underworld of Mictlan, where the dead dwell. The sequence ends when the souls who reside in Mictlan perform the Día de Muertos Dance.
En español
12:30PM • DEMOSTRACIÓN PROMOCIONAL • PLAZA DE BLUE RIVER
2PM • ESPECTÁCULO COMPLETO • PLAZA DE LA CALLE RIDGE
3PM • TALLER DEL GRUPO DE DANZA GUERRERA HUITZILOPOCHTLI • PLAZA DE LA CALLE RIDGE
El Grupo de Danza Guerrera Huitzilopochtli se basa en la mitología Azteca y representa a dos guerreros Aztecas. Cuando uno de los guerreros fallece, su alma es recibida por otro que lo lleva a su próxima vida en el inframundo azteca de Mictlán, donde habitan los muertos. La secuencia termina cuando las almas que residen en el Mictlán realizan la Danza del Día de Muertos.
Oct 14, 2023
•
12:30pm
, Saturday
Teaser
Oct 14, 2023
•
2:00pm
, Saturday
Performance
Oct 14, 2023
•
3:00pm
, Saturday
Workshop
Explore More Día de Muertos Activities