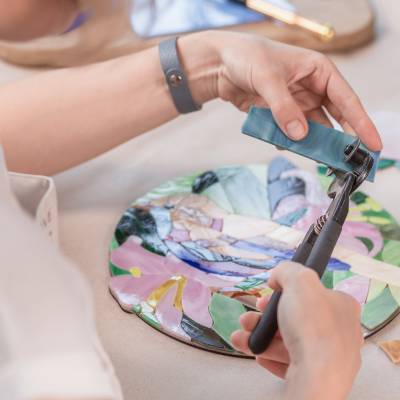 Beginner Mosaics and Grouting
Participants in this class will create cohesive mosaic projects using a wide range of materials and techniques. Projects will range from indoor to outdoor, each using different bases, glues and pieces. In addition, we will explore several mosaic style techniques, learning how to apply concepts like contrast, movement, glass shaping and spacing.
Most mosaic pieces are a multi-step process. Most pieces are finished by grouting (though no-grout options will be discussed). Grout classes will be held separately, on the last Friday of the month.
Grout Classes: This class teaches how to grout a mosaic project into finished pieces. We will cover how to buy and select the best color of grout for a project, how to apply the grout to the project, how to remove excess grout and clean the project, and finally, how to seal the mosaic.
This class is designed to allow participants of the Beginner Mosaic classes finish their mosaic projects. Participants are encouraged to complete and bring multiple mosaic projects to finish in the grout class.
Pricing
Breck Create Members: $30
Non-Members: $40
The cost of the class includes materials and use of studio equipment and tools.
Age Requirement
Participants must be 17 or older to participate.
Instructor
Jordan Thomas
Check-in
For classes taking place on the Arts District campus, please check-in with the instructor at the class location.