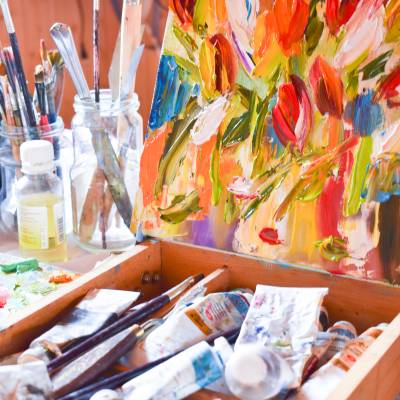 Beginner Oil Painting: Series
Enjoy creating your own masterpiece in this 3 session beginner series. Become familiar with how to mix oil paint colors and use solvents for a brilliant palette. Learn how to prep your canvas with an underpainting, compose your image, paint from the back to the front of your canvas…
Enjoy creating your own masterpiece in this 3 session beginner series. Become familiar with how to mix oil paint colors and use solvents for a brilliant palette. Learn how to prep your canvas with an underpainting, compose your image, paint from the back to the front of your canvas with layers and apply shadows and highlights to form depth. Discover techniques to form clouds, trees, mountains, rivers, rocks, etc. All supplies provided.

**PLEASE NOTE: This is a series of classes. You MUST sign-up before the FIRST CLASS in a series. When you sign-up, you commit to 3 weeks of classes that repeat every Sunday.
Pricing
Breck Create Members: $68
Non-Members: $90
The cost of the class includes materials and tools.
Ages
Participants must be 17 or older to participate.
Instructor
Tracy Bligh
Check-in
For classes taking place on the Arts District campus, please check-in with the instructor at the class location.
Jun 11, 18, 25
•
2:00pm
, Sunday
2PM - 5PM