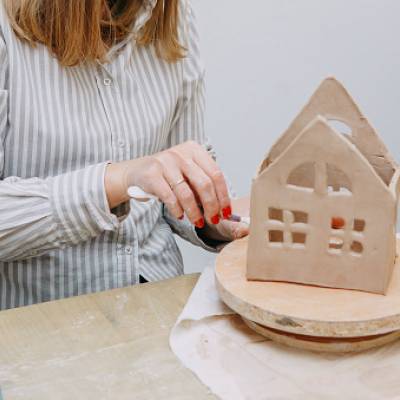 Clay Sculpture for Adults
Back by popular demand but now offered for adults! Hand-build miniature human habitats from around the world using techniques in slab building, sculpting, coiling and pinch potting. Each structure will be approximately 4-6 inches and will be kiln fired once the clay is dry. Pick up…
Back by popular demand but now offered for adults! Hand-build miniature human habitats from around the world using techniques in slab building, sculpting, coiling and pinch potting. Each structure will be approximately 4-6 inches and will be kiln fired once the clay is dry. Pick up times will be announced at the end of class. No experience necessary. All supplies provided.
Ceramics is a multi-step process that takes many weeks for a completed project. Kiln firings occur when there is enough work to fill the kiln.
Pricing
Breck Create Members: $30
Non-Members: $40
The cost of the class includes materials and tools.
Age Requirement
Participants must be 17 or older to participate.
Instructor
Tracy Bligh
Check-in
For classes taking place on the Arts District campus, please check-in with the instructor at the class location.
Project Calendar:
Sep 7: Log Cabin
Sep 14: Adobe House
Sep 21: Basotho Hut
Sep 28: Irish Thatched Roof Cottage
Oct 5: A-Frame
Oct 12: Rondavel
Oct 19: Hanok
Oct 26: Tee Pee
Nov 2: Yurt
Nov 9: English Stone Cottage with Ivy
Nov 16: Alberobello, Italy Trullo House
Nov 30: Tiny Home
Dec 7: Bavarian Cottage
Dec 14: Igloo