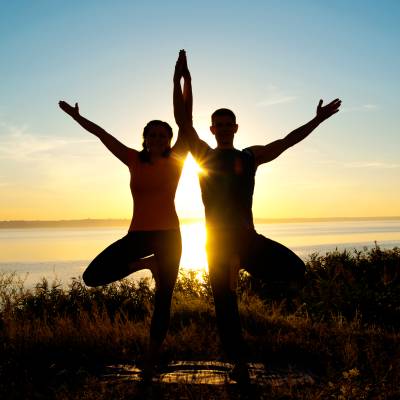 Date Night: Changing Positions - Vision Cards + AcroYoga
+ Meta Yoga
Come mingle with other couples for this enjoyable evening of enlightening alignment! Start with a AcroYoga lead by Meta Yoga teachers Yess Vinueza G and Sarah Antonucci, as they lead an hour long beginner AcroYoga session. This partner practice combines yoga and acrobatics where…
Come mingle with other couples for this enjoyable evening of enlightening alignment! Start with a AcroYoga lead by Meta Yoga teachers Yess Vinueza G and Sarah Antonucci, as they lead an hour long beginner AcroYoga session. This partner practice combines yoga and acrobatics where participants will learn how to safely enter and exit basic shapes, how to safely spots others through their practice, and how to combine shapes to create ongoing flows. Then change positions and gain perspective creating vision cards with Breck Create instructor Kimberly Nicoletti. Using mixed media techniques, Kim will guide participants to tap into their creativity and intuition. The result will be unique art pieces that can be taken home at the end of the night. Ticket cost includes one drink of non-alcoholic wine or beer to be served during the Vision Card activity.
Pricing
Breck Create Members: $42
Non-Members: $55
Age Requirement
Participants must be 21 or older to participate.
Instructor
Kim Nicoletti, Yess Vinueza G., Sarah Antonucci
Check-in
For classes taking place at other locations, please check-in with the instructor at the class location.