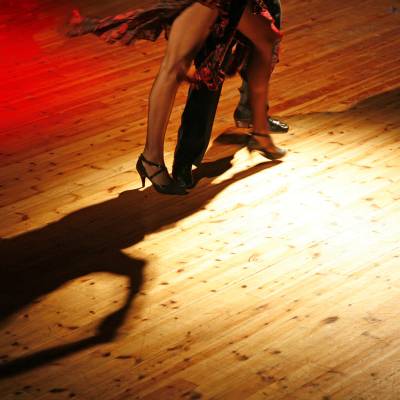 Date Night: Playing Footsie - American Tango + Bolero
Come mingle with other couples and move your feet with nationally certified ballroom dance instructor Judah Arrington for an in-depth workshop on North American Tango, and Bolero dancing. Tango dancing (originating in Argentina) and Bolero dancing (originating in Cuba) both come from…
Come mingle with other couples and move your feet with nationally certified ballroom dance instructor Judah Arrington for an in-depth workshop on North American Tango, and Bolero dancing. Tango dancing (originating in Argentina) and Bolero dancing (originating in Cuba) both come from a smoother, slower side of ballroom dancing. Enjoy a drink while you take a deep dive into the history, culture, style, and steps of Tango and Bolero. Ladies/followers please wear heels or ballroom dance shoes, men/leaders please wear dress shoes, or men's ballroom dance shoes to safely dance the night away!
Due to the active nature of this class, we encourage you to bring your own refillable water bottle.
Pricing
Breck Create Members: $18
Non-Members: $25
Age Requirement
Participants must be 21 or older to participate.
Instructor
Judah Arrington
Check-in
For classes taking place on the Arts District campus, please check-in with the instructor at the class location.
Jun 17, 2023
•
5:00pm
, Saturday
5PM - 9PM