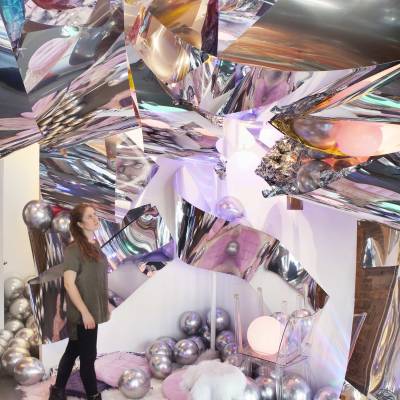 Exhibition Opening: Barriers to Entry
Join us to celebrate the opening of Sharon Louden's solo exhibition, Barriers to Entry. This site-specific, abstract installation uses different types of media to shape colorful and reflective forms that symbolize spaces made difficult to enter, especially to women and other…
Join us to celebrate the opening of Sharon Louden's solo exhibition, Barriers to Entry. This site-specific, abstract installation uses different types of media to shape colorful and reflective forms that symbolize spaces made difficult to enter, especially to women and other underrepresented individuals in mountain communities.
The Clint Dadian Guitar Trio will provide classic jazz music of the Great American Songbook, including selections from Duke Ellington, Cole Porter, Ella Fitzgerald, and many other jazz legends of the1950s & '60's. Clint and the bass player hail from Denver, while the drummer, Vinson Valega, lives and works in New York City.
Above Image: "Origins" at signs and symbols gallery, New York, NY (2019).