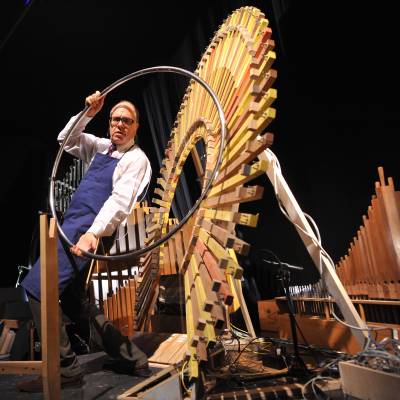 Breckenridge International Festival of Arts
A Paul Dresher Ensemble Production 
Music by Paul Dresher 
Text and Direction by Rinde Eckert 
Performed by Steven Schick 
Instruments invented by Matt Heckert and Daniel Schmidt 
The sound of a summer storm's distant thunder and the rain…
A Paul Dresher Ensemble Production 
Music by Paul Dresher 
Text and Direction by Rinde Eckert 
Performed by Steven Schick 
Instruments invented by Matt Heckert and Daniel Schmidt 
The sound of a summer storm's distant thunder and the rain on the roof - the memory of the late night sound of his mother's typewriter down the hall - these compel the sound collector and sonic inventor Laslo Klangfarben to attempt the creation of the Schick Machine, a wondrous mechanical device that consumes his every waking and dreaming moment. A giant motorized hurdy gurdy, a deconstructed pipe organ and an array of spinning and thrashing metal machines that seem almost to be alive - these devices and more fill the basement workshop of our possibly mad and possibly genius inventor as he nears the completion of his giant instrument that he believes can reconcile the past and the future. He thinks: "Theoretically it's sound. It's sound, theoretically, it's sound." 
Collaboratively created by a multi-disciplinary team including composer/instrument builder Paul Dresher, writer/director Rinde Eckert, percussionist/performer Steven Schick, lighting and visual designer Tom Ontiveros, instrument inventor/educator Daniel Schmidt, and mechanical sound artist Matt Heckert, Schick Machine features percussionist Schick exploring a visually compelling world of mechanical devices, invented instruments and seemingly infinite sonic possibilities. He occupies a stage filled with large scale invented instruments, drawing the audience into a magical place filled with creative potential. The audience quickly relinquishes its expectations about what an instrument should look like, how it should be played, and what sounds it can make, and is enticed into a sonorous world of continual aural and visual surprises. Schick Machine has been created specifically to appeal to a broad range of audiences including families, youth and students and senior citizens. 
About the Family Concert
Family Concert: Schick Machine
Wednesday, August 16 @ 11am
Riverwalk Center
A special 50-minute presentation of Schick Machine gear specifically for families provides young people the opportunity to see, hear, touch and literally enter the magical world of the Schick Machine.
Aug 16, 2023
•
7:30pm
, Wednesday
Reserved Seating, Doors @ 7pm
Aug 16, 2023
•
11:00am
, Wednesday
Family Concert
A gorgeous clutter of instruments fills the stage… a quiet and contemplative piece of theater… crisp, enrapturing visual aesthetic.
The San Francisco Bay Guardian
The sounds are fresh and surprising… Schick's playing is often mind-blowing.
The Los Angeles Times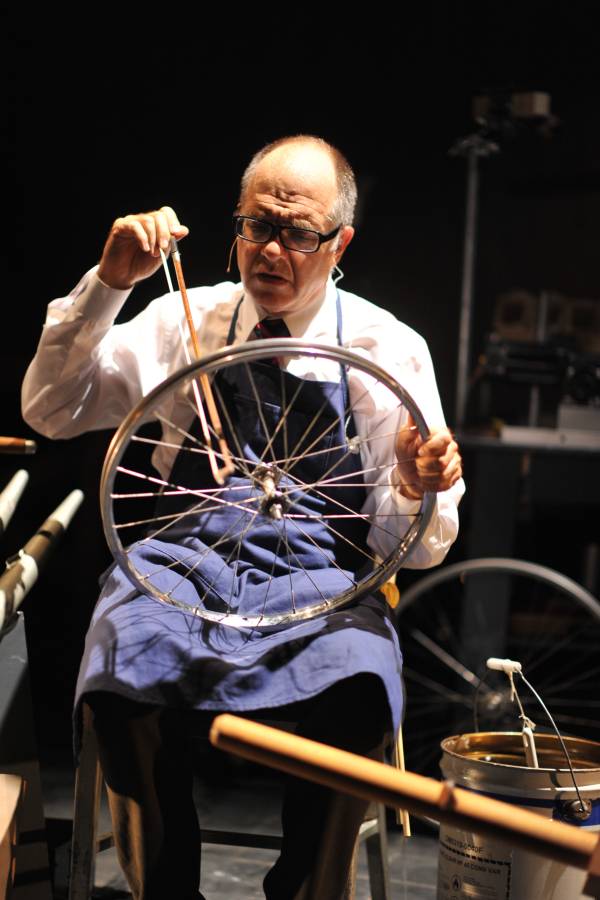 About Steven Schick
Percussionist, conductor, and author Steven Schick was born in Iowa and raised in a farming family.  Hailed by Alex Ross in the New Yorker as, "one of our supreme living virtuosos, not just of percussion but of any instrument," he has championed contemporary percussion music for nearly 50 years, and in 2014 was inducted into the Percussive Arts Society Hall of Fame. 
Steven Schick is Music Director Emeritus of the La Jolla Symphony and Chorus, serving as its Music Director from 2006-2022, and the Artistic Director of Breckenridge Music Festival.  He has guest conducted the BBC Scottish Symphony Orchestra,  Saint Paul Chamber Orchestra, Milwaukee Symphony, Ensemble Modern, the International Contemporary Ensemble, and the Asko/Schönberg Ensemble. He was Artistic Director of the San Francisco Contemporary Music Players (2010-2018) and directed programs at Banff Centre for Arts and Creativity from 2009-2019, the last three of which as Co-artistic Director, with Claire Chase, of the Summer Classical Music program.  
In 2020, Steven Schick won the Ditson Conductor's Award, given by Columbia University for commitment to the performance of American music.   
Schick's publications include a book, "The Percussionist's Art: Same Bed, Different Dreams," and numerous recordings including the 2010 "Percussion Works of Iannis Xenakis," and its companion, "The Complete Early Percussion Works of Karlheinz Stockhausen" in 2014 (Mode).  The latter received the Deutscheschallplattenkritikpreis for the best new music release of 2015.   
Steven Schick is Distinguished Professor of Music and the inaugural holder of the Reed Family Presidential Chair at the University of California, San Diego.  
Schick's evenness of touch and mastery of pacing make it hard to believe that one person is playing these absurdly complex interlocking timbral and rhythmic patterns, reminiscent of a one man gamelan orchestra.
BBC Music Magazine
Generously Underwritten By Paul Finkel and Barbara Strauss