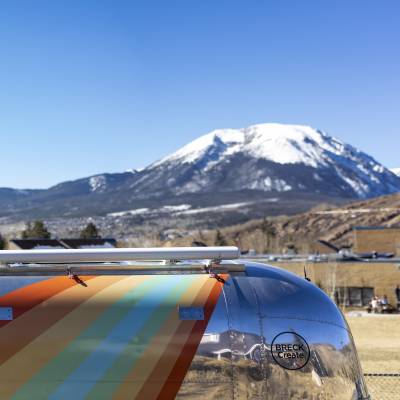 Exhibitions Evangelina Estes: Mi Casa Es Su Casa
AirStage Art Installation
ON VIEW OCT 13-14 • RIDGE STREET ARTS SQUARE
This immersive installation by local artist Evangelina Estes transforms Breck Create's retrofitted 1975 Airstream trailer into a traditional Mexican family kitchen. It includes depictions of dishes, games, and traditions from different Latine cultures. Mi Casa Es Su Casa focuses on communication between children and parents and the stories that are passed down from generation to generation. In addition to the Arts District Campus, the AirStage will visit Summit County elementary schools in October, during Hispanic Heritage Month.
en español
ESPACIO DE ARTE AIRSTAGE: MI CASA ES SU CASA
A LA VISTA EL 13 Y 14 DE OCT • PLAZA DE LA CALLE RIDGE
Esta presentación inmersiva de la artista local Evangelina Estes transforma el tráiler de 1975, reacondicionado por Breck Create, en una cocina mexicana tradicional. La misma incluye demostraciones de platillos, juegos y tradiciones inherentes a las diversas culturas Latinas. Mi Casa Es Su Casa hace énfasis en la comunicación entre niños y padres, así como también en las historias que son trasmitidas de generación en generación. Además del Campus del Distrito de las Artes, el tráiler AirStage visitará las escuelas primarias en octubre, durante el mes de la Herencia Hispana.