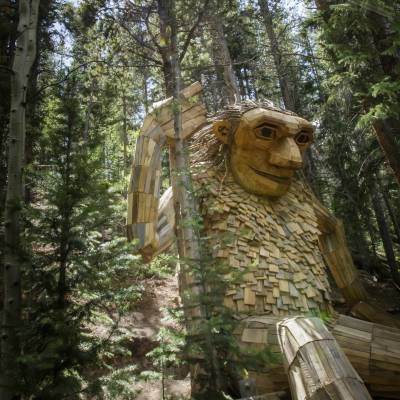 Public Art Isak Heartstone
Isak Heartstone is a large-scale, wooden troll sculpture created by Danish artist Thomas Dambo, who specializes in making imaginative art pieces, furniture and more from recycled materials. Over the last three years, Dambo and his team of volunteers have made dozens of site-specific sculptures around the world.
To find the troll sculpture, please click here.
Co-commissioned by Town of Breckenridge + Breck Create
From
Copenhagen, Denmark
Medium
Recycled Materials
Installation Date
June 21, 2019
Photos
Jenise Jensen, Joe Kusumoto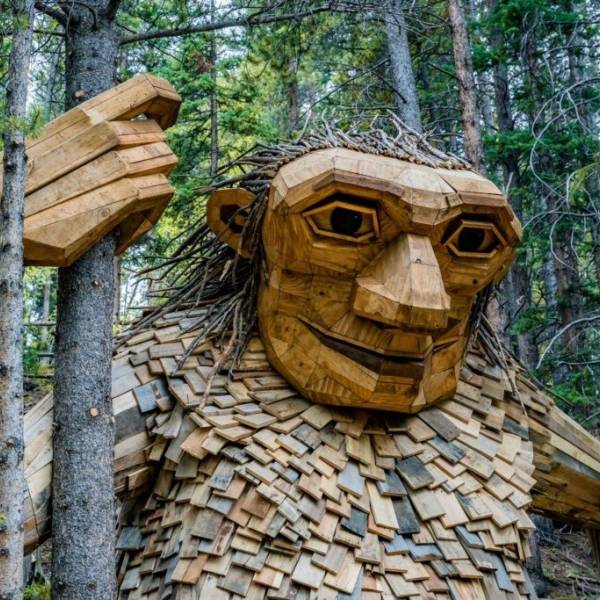 Fancy yourself a troll hunter?
Isak Heartstone lives on the newly constructed Trollstigen trailhead, located in the southeast corner by the Illinois Creek trailhead. It is an easy walk, bike, or free public transportation ride to visit him.
In 2023, Dambo created the 100th troll. The 100th troll is his most mysterious troll yet, shrouded in secrecy and built in an undisclosed location. The only way to find it is by unlocking the troll code, a piece of which is engraved on a stone-mounted, aluminum plaque found at each of the locations where the first 99 trolls have been built. Only once all of the 99 individual troll codes have been uncovered and keyed into a special feature on Trollmap will the location of the 100th troll be revealed. #troll100