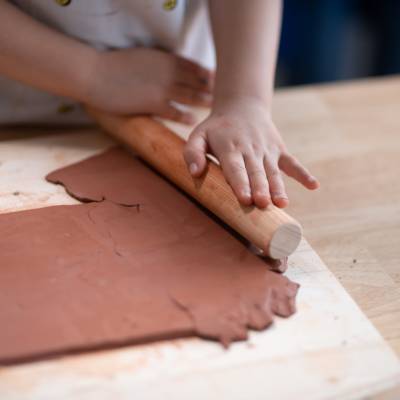 Muddy Buddies: Ceramics for Youth, Tweens + Teens
Kids will learn the basics of working with clay while also exploring additional material possibilities. Participants will produce fun projects that will become treasured mantel pieces.
Please note: projects won't be available to take home the same day. Due to the nature of working with clay, all projects must thoroughly dry and be fired (which takes about 2 weeks). We do not offer shipping.
Pricing
Breck Create Members: $12
Non-Members: $15
The cost the class includes materials and use of studio equipment and tools. 
Age Requirement
Participants must be 6 or older to participate.
Instructor
Kia Neill
Check-in
For classes taking place on the Arts District campus, please check-in with the instructor at the class location. 
To offer a high-quality experience for all participants, if you need to register for 4 or more spots, we recommend that you email privateclasses@breckcreate.org to arrange a private youth class.
Please note that if after several redirections from the instructor, your youth is struggling to maintain appropriate behaviors, remain engaged with the class activities or is compromising the safety of themselves or others we will contact you to pick them up before the end of class. In this instance, no refunds will be issued.
Project Calendar:
Dec 1: Snowmen
Dec 8: Holiday Tree Candle Lanterns
Dec 15: Snow monsters
Jan 6: Snow monsters
Jan 13: Coil candle lanterns
Jan 20: Animal bowls for pets or ice cream!
Jan 27: Heart shaped candy boxes
Feb 3: Hot cocoa mugs
Feb 10: Monster money banks
Feb 17: Cookie jars
Mar 10: Cookie cutter candle lanterns or baskets
Mar 17: Clay bells and rattles
Mar 24: Toad and fairy houses
Mar 31: Flower and herb pots
Apr 7: Wind chimes and bells
Apr 14: Garden gnomes