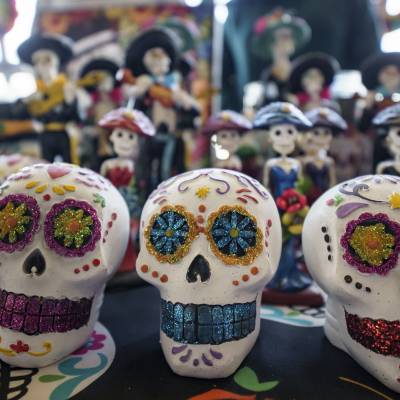 Blog 2023 Breckenridge Día de Muertos Festival
Celebrating Life and Tradition
Every year, the town of Breckenridge, Colorado, comes alive with vibrant colors, music and cultural celebrations as it pays homage to Día de Muertos, or the Day of the Dead holiday. The 2023 Día de Muertos Festival, presented by Breck Create, promises to be an unforgettable two-day event that honors loved ones who have passed while celebrating the rich tapestry of Latine culture. This annual festival, which runs from Friday, October 13th to Saturday, October 14th, is a testament to the power of art, tradition and community.
Dates
Friday, October 13 – Saturday, October 14
Price
FREE
Schedule of Events
The 2023 Día de Muertos Festival promises a rich and diverse array of activities, all of which are free and family friendly.
Ongoing Art Exhibition: Stephanie Mercado: The Seeds of Dreams
Dates: Oct 6 – Nov 26

Location: Old Masonic Hall
AirStage Art Installation: Evangelina Estes: Mi Casa Es Su Casa
Dates: Oct 13 – 14

Location: Ridge Street Arts Square
Opening Night, Friday, October 13th at Old Masonic Hall
5:30 p.m. • Doors open with live music ft. Javier De Los Santos
6:00 p.m. • Artist Talks with Stephanie Mercado + Evangelina Estes
7:00 p.m. • Grupo Huitzilopochtli Aztec Dancers followed by Candlelight Vigil
Saturday, October 14th on the Arts District Campus
Mexican Cultural Center Market
10:00 a.m. – 4:30 p.m. • Ridge Street Arts Square
Workshop: Sugar Skulls
10:00 a.m. • 11:30 a.m. • 1:00 p.m. • Old Masonic Hall 
Workshop: Katrina Masks + Lotería Cards
10:00 a.m. • 11:30 a.m. • 1:00 p.m. • Randall Art Barn
Workshop: Pan De Muerto
11:00 a.m. • 3:00 p.m. • Old Masonic Hall
Performance: Grupo Huitzilopochtli Dance Collective
12:30 p.m. • Blue River Plaza
2:00 p.m. • Ridge Street Arts Square
Workshop: Grupo Huitzilopochtli Dance Collective
3:00 p.m. • Ridge Street Arts Square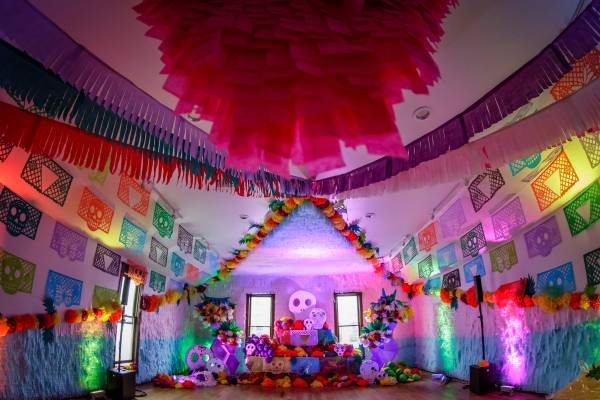 A Cultural Celebration with a Purpose
The Día de Muertos Festival is not just a festival; it's a profound cultural experience. The event is produced in partnership with esteemed organizations such as the Metropolitan State University of Denver (MSU Denver) Department of Chicana/o Studies, Mexican Cultural Center (MCC), Chicano Humanities Arts Council (CHAC), Colorado Folk Arts Council (CFAC), and Colorado Mountain Dreamers. Together, they aim to educate the public about this important Mexican tradition and promote inclusivity.
Dr. Renee Fajardo, a key figure in these partnerships, applauds the festival's growth and Breck Create's inclusion of Spanish translations on its website and exhibition resources. Dr. Fajardo, who serves as the director of the Journey Through Our Heritage program within the MSU Denver Chicano/a Studies Department, chairperson of CHAC and board member of CFAC, notes, "Breckenridge is more than a ski town—we are all part of a thriving, vibrant experience where our connections to each other are multifaceted."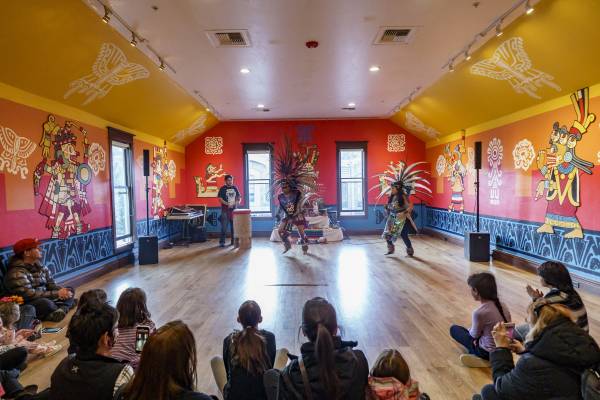 Honoring Tradition and Resilience
This year's festival brings back the beloved candlelight vigil, a touching tribute that temporarily halted due to the pandemic. The vigil will be held on Friday, October 13th, and is dedicated to the memory of Raul Chavez, the late capitán of the Aztec dance collective Grupo Huitzilopochtli, which will also be performing and conducting workshops at this year's festival. Chavez played a vital role in introducing the traditions of Aztec dance and Día de Muertos to Colorado and was a mainstay at several Día de Muertos celebrations until his passing last year.
According to Dr. Fajardo, the candlelight vigil is significant as it not only honors the departed but lights the way for the souls believed to return during this time of year. It also symbolizes bonding among the living participants, creating a sense of unity and remembrance.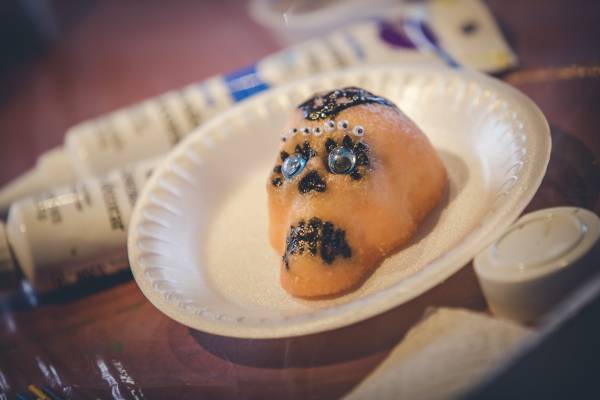 Acknowledging Our Sponsors
Breck Create extends its gratitude to the sponsors of the 2023 Día de Muertos Festival, without whom this celebration wouldn't be possible. Special thanks to Breckenridge Grand Vacations and BGV Gives, U.S. Bank, Pinnacle Gives, The Summit Foundation and Summit County Government for their support.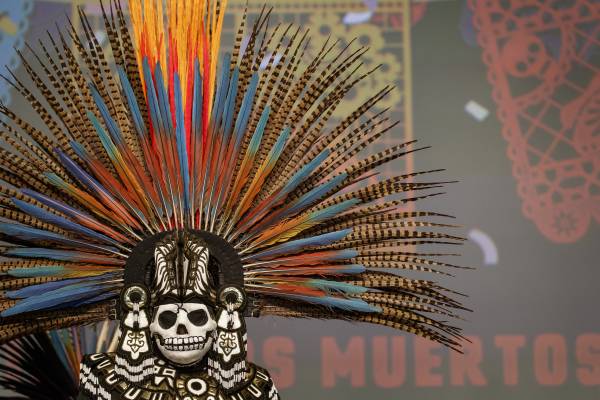 About Breck Create
Breck Create is dedicated to building a dynamic, year-round creative community in Breckenridge. The organization's mission is to provide inspiring creative experiences that enhance the quality of life for all residents and visitors alike. Through a year-round schedule of performances, exhibitions, screenings, art classes and workshops, Breck Create supports and serves artists, creatives, cultural enthusiasts and the community, fostering a thriving, vibrant arts scene in Breckenridge.
The Arts District Campus, with its renovated historic structures, serves as a hub for artistic activities. The organization manages and operates the Riverwalk Center and offers affordable rentals for local and visiting artist-in-residence participants, making Breckenridge a true haven for creativity.
As the 2023 Día de Muertos Festival approaches, Breckenridge eagerly anticipates coming together to celebrate life, tradition and culture. Don't miss out on this incredible event that bridges communities, educates and honors the past while looking toward a vibrant future.
For more information and a detailed schedule of events, visit our webpage dedicated to the festival. Join us in commemorating Día de Muertos and the rich cultural heritage it represents.