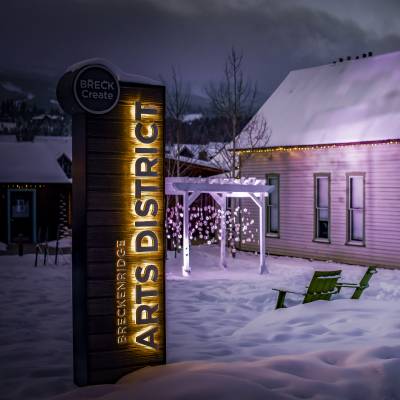 Blog Things to Do in Breckenridge
Breckenridge is a world-renowned ski and snow-sport town, but perhaps you're looking for things to do with your family that don't require skis or snowboards. Breck Create offers a full menu of vibrant and creative community activities, including several free activities, on the Arts District Campus in the heart of downtown Breckenridge that's perfect for all ages, skiers and non-skiers alike. From toddlers to seniors, everyone is invited to dive into Breck Create's world of art, live music and creativity. Here's a glimpse of the exciting non-skiing activities awaiting you and your family during the Winter 2024 Breckenridge season:
Things to Do in Breckenridge Besides Skiing
Holiday Activities
The Queen's Cartoonists: Holiday Hurrah! Yule Love It!
Thursday, December 21
Riverwalk Center
The Queen's Cartoonists perform classic and original music from cartoons. Pulling from over 100 years of animation from around the world, TQC's performances are perfectly synchronized to the films projected on stage. Witness classic characters come to life on stage as talented musicians play along with projected cartoons. Get ready for a whirlwind of musical mastery, hilarious comedy and nostalgic fun. It's an experience both young and old will cherish!
More Info
Handmade Holiday 
Saturday, December 2
12:00 - 6:30 p.m.
Old Masonic Hall • FREE
Find the perfect gift and experience the Breckenridge Arts District for its annual holiday market and open house. Breck Create instructors will showcase their artwork made on the Arts District campus including books, candles, ceramics, jewelry, paintings, prints and more. Enjoy free creative activities and holiday music with a cash bar and local artist displays during the Lighting of Breckenridge festivities.
More Info
Family-Friendly Creative Classes and Workshops
Breck Create offers a variety of creative classes and workshops for budding artists of all ages. From Toddler Art sessions, where little ones explore their creativity under the guidance of skilled instructors, to Afterschool Art programs that encourage older children to experiment with different mediums, there's something for everyone. Let imaginations run wild in a supportive and engaging environment!
Full Calendar
Toddler Art 
2:30 p.m. Wednesdays
Quandary Antiques Cabin
Bring your toddler to the Arts District Campus for a mini-class for mini-artists. Projects are 30 minutes long and will provide parents an opportunity to be creative with their young ones. To ensure a spot, register online. Parents are required to attend, and please register for child only.
More Info
Afterschool Art 
3:30 p.m. Wednesdays
Quandary Arts Cabin • FREE
Get creative in a fun and relaxed environment! During each session, children will work on a new project, pushing the boundaries of imagination and invention. They will have the opportunity to explore new materials and techniques using a variety of mediums. To ensure a spot, register online.  
More Info
Young Writer's Club
5 p.m. Thursdays
Quandary Antiques Cabin 
Calling all aspiring young writers! Join the Young Writer's Club and embark on a literary journey filled with inspiration, collaboration and creative writing. Share your stories, receive positive feedback and watch your words come to life. With free journals provided, this club is perfect for nurturing young talents.
More Info
Muddy Buddies
4:30 p.m. Fridays
Ceramics Studio
For the young sculptors at heart, Muddy Buddies offers an opportunity to explore the world of clay art. Learn the basics of working with clay, experiment with various techniques and create unique projects that will be cherished for years. Let your creativity take shape in the hands-on ceramics studio!
More Info
All Ages Pick-A-Project
9 a.m., 10:45 a.m., 12:15 a.m. • Two Saturdays per Month
Quandary Antiques Cabin
Spend quality time with your family at the All Ages Pick-A-Project classes. Choose from a variety of creative activities and work on a project together. With step-by-step guidance from experienced instructors, these sessions promise 90 minutes of artistic fun for everyone. Discover the joy of creating as a family!
More Info
Explore the Breckenridge Arts District
The Arts District Campus is bustling with creative activities Tuesdays through Sundays. Comprised of a collection of quaint historic structures nestled just behind Main Street in downtown Breckenridge, simply wandering through the district is a fun family activity.  
Campus Crawl 
Saturday, January 27 • 12 – 6:30 p.m.
Old Masonic Hall • FREE
Kicking off the new year is the Campus Crawl, a unique opportunity to explore the thriving Breckenridge Arts District. Open to all ages, this community event invites participants to venture through renovated historic structures, discover studio spaces and immerse themselves in the artistic process. The event features artist demonstrations, family-friendly craft activities, light refreshments and live music by local musicians, promising an evening of creative discovery and connection.
More Info
Artists-in-Residence
Days, Times + Locations Vary • FREE
Connect with Breck Create's resident local and national artists. See inside their studios, purchase their art and learn how they're engaging with the local community. Breck Create currently has three studio spaces available to artists. During select hours, community members are invited to stop by the studios to watch the artists at work. By engaging with the artists and their creations, you contribute to the rich cultural tapestry of Breckenridge. Please visit the website for details regarding open-studio hours.
More Info
Breck Create is more than an organization; it's a vibrant creative hub that enriches the lives of residents and visitors alike. Through performances, exhibitions, screenings, art classes and workshops, Breck Create creates an inclusive space for artistic expression. With venues like the Riverwalk Center and the Arts District campus, it serves as a focal point for artistic endeavors, making Breckenridge a truly inspiring place to be.
Come and be a part of the artistic tapestry of Breckenridge Arts District. Unleash your creativity, explore new horizons and make lasting memories—no ski pass required. Join us on this creative journey where age is just a number, and art knows no bounds!