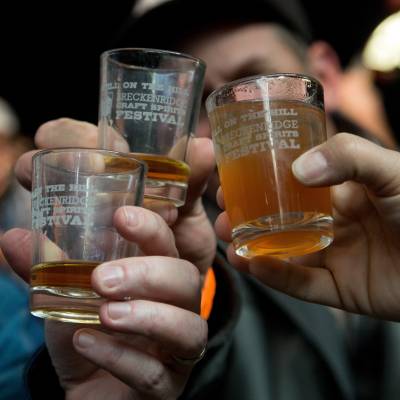 Breckenridge Craft Spirits Festival
The Breckenridge Craft Spirits Festival is coming October 6-8, 2023. The highlight of the weekend is the Still on the Hill Grand Tasting, on Saturday, October 7 from 4-7pm at the Riverwalk Center, which will showcase the various products of our craft distillers. The public can meet…
The Breckenridge Craft Spirits Festival is coming October 6-8, 2023. The highlight of the weekend is the Still on the Hill Grand Tasting, on Saturday, October 7 from 4-7pm at the Riverwalk Center, which will showcase the various products of our craft distillers. The public can meet the distillers, try the various spirits and vote for their favorite spirit. Many of the distillers make up cocktails featuring their spirits so that guests may experience how the products can be used. Guests will also enjoy munchies from local restaurants and bluegrass music by the Local Folk Band. Grand Tasting tickets are $70 in advance and $80 day of. Tickets include a tasting glass and entry to the Grand Tasting (must be 21 to enter, it is a no-pet event).
Other events include:
Friday, 10/6 2pm @ Radicato - The Art of the Espresso Martini and Italian Amaro $20pp
The Espresso Martini is a classic cocktail that has recently returned to popularity. Come learn the history of this cocktail and explore the technique to making the perfect espresso martini. We will also explore the category of spirits called Amaro.
Friday, 10/6 6PM @ Hearthstone - Sippin' at the Stone $150pp (includes tax and gratuities)
Spirits-inspired dinner at the Hearthstone. Enjoy this five-course dinner with paired cocktails.
Friday, 10/6 6pm @ Breckenridge Distillery - Star Wars Cocktails Workshop $20pp
Unveiling of the Star Wars Cantina cocktail flight. Shuttle available from Tasting Room at 5:40pm
Saturday, 10/7 11am @ Castaways Cove - Ahoy Workshop $20pp
An introduction to Rums from around the world. Explore the world of rum from production to regional styles and cocktails.