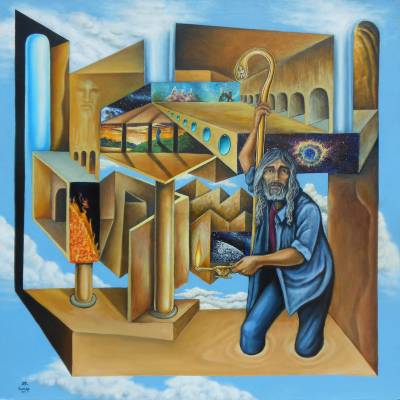 Exhibitions Recuerdos: Weaving the Dream
October 6 – November 13, 2022
Curated by Renee Fajardo
Translation by Ed Winograd
In partnership with the Chicano Humanities Arts Council
Many cultures now embrace Día de los Muertos as a time to remember and honor deceased loved ones, but it is more than that. It is a chance to explore the dream of who and where we came from. It facilitates the sharing of common experiences so that we can see the connections between all humanity. Recuerdos: Weaving the Dream features work by Cal Duran, Arlette Lucero, and Stevon Lucero, all of whom are current or past members of the Chicano Humanities Arts Council (CHAC). Together, the artists weave a spiritual journey into the sacred dream of our mortality. If we come here only to dream, let that dream be one of beauty.
Opening Reception + Artist Talk
Friday, Oct 14, 6pm | Old Masonic Hall | FREE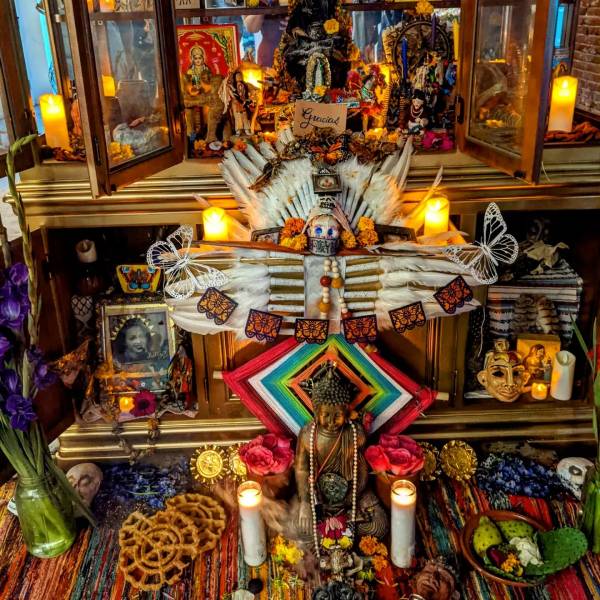 About the Artists
Cal Duran is a Queer, Two Spirit, Indigenous, mixed blood, Latine, Manito, Mestizo, Chicane, Indian artist and arts educator from Colorado. He has roots that bridge India, Mexico, and sovereign Indigenous nations and explores his hybrid identities through parallels found in myth, religion, and ritual. For Duran, art is a portal to his Indigenous ancestors—the artisans, craft-makers, star-makers and dream-weavers who paved the way.
Duran has exhibited in museums and galleries throughout the Denver Metro area and beyond. Recently, he created a room at Meow Wolf Denver, honoring his ancestors and the Indigenous tribes of Colorado and the Americas. Duran is currently working on installations for Día de Los Muertos at the Colorado History Museum, Denver Art Museum, and Denver Botanic Gardens.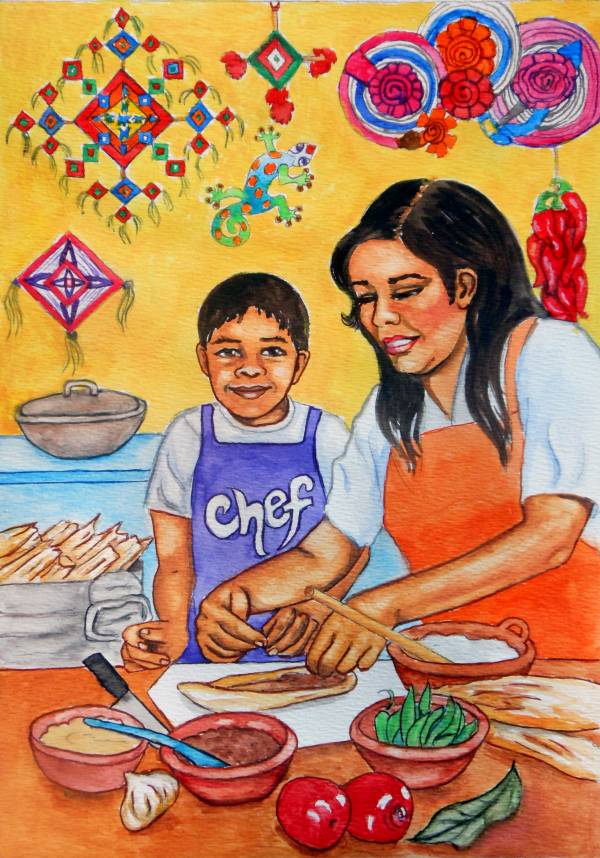 Arlette Lucero is a Colorado-based Chicana painter, graphic artist, illustrator, muralist, and community activist. She has a BFA from Colorado State University in Fort Collins and has worked as a mentor and teacher artist with organizations including ArtReach, ArtsStreet, Colorado Folk Arts, Journey Through Our Heritage, Kidzart, Museo de las Americas, Mizel Center for Arts and Culture, History Colorado, and Voz y Corazón. She currently serves as the Education Director at CHAC Gallery. She, along with her husband, Stevon, helped establish Día de Los Muertos in Colorado and has created thousands of altars/ofrendas over the past four decades. Lucero uses a combination of realism, symbolism, and crisp bright colors to express emotions, desires, and personal obsessions.
Stevon Lucero moved from Laramie, Wyoming to Denver, Colorado in 1976 and became a vibrant, active member of the Denver art community. He lived and worked in Denver since 1976 when he moved his small family from Laramie, Wyoming to "the big city." He helped found CHAC, which anchored and facilitated the revitalization of Santa Fe Drive. Lucero mentored dozens of young creatives throughout his career. Articulate and thoughtful, he helped aspiring artists of all ages learn to express themselves, appreciate the magic and beauty that exists in any act of creation, and recognize the vital importance that every voice brings to the community table. Stevon Lucero passed away on Sunday, November 28th 2021. Meeting and teaching people from all walks of life, he exemplified the optimism, individualism, and determination that were foundational principles of his art practice.
Lucero's paintings have been presented to world leaders as gestures of friendship and unity. His last major project was a collective artscape in Meow Wolf's Convergence Station, which opened in Denver in September 2021. Lucero, along with his wife, Arlette, was at the forefront of celebrating Día de Los Muertos in Colorado and saw it as a way to connect to his Indigenous ancestry and understand the spiritual connection between all people.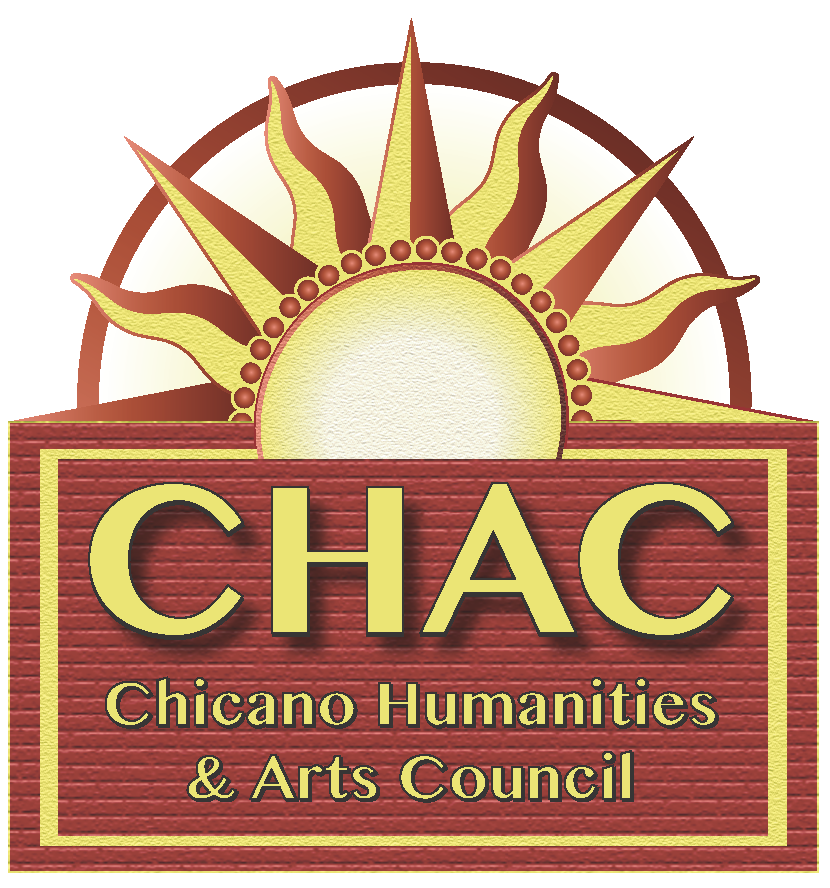 About the Chicano Humanities Arts Council (CHAC)
CHAC is an inclusive community of all creatives who are dedicated to preserving, showcasing, educating, and reflecting Chicane, Latine, and other multicultural, multiracial communities.
History
The Chicano Humanities Arts Council is Colorado's oldest Latine nonprofit art organization. CHAC Gallery and Cultural Center was founded in 1978. CHAC continues to be an inclusive community of all creatives who endeavor to showcase, preserve, and educate the Rocky Mountain regional arts community through educational outreach, exhibitions, special events and artistic mentoring about the diverse Latine, Chicane, and other multi-cultural communities who call Colorado home.
CHAC, along with the Pirate Art Oasis, were the earliest celebrants of Día de Los Muertos in Colorado, introducing the holiday to the Front Range in the 1980's.
For More Information, visit www.chacgallery.org/about