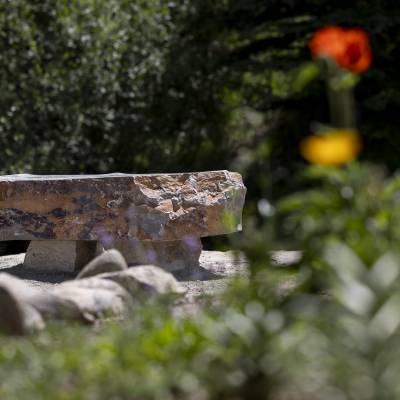 By Joshua Gannon: 
My approach oftentimes is going with what the stone can give. It points you in the proper direction, reading cracks, looking for veins of color or variation, and what people have requested. With custom pieces through the years, I have seldom felt cornered with requests; sometimes you can pull something out and other times not. It's played well with my personality and general inability to follow plans. It took me looking over quite a few stones for the bench hoping to pull a slab large enough, stable and heavy enough. 
I hope passers-by are just drawn to it really. To touch it, inquire about it, whether they take a seat or not. It offers a broad view inside a piece of stone, and it tells you it's intended for two with its depressions, which is what Nils had in mind; the simple metaphor of him and his wife, together, in a place they loved and shared.  
Feel free to pull anything from my site statement. I like the fight it gives honestly. I had the good fortune of learning to carve on hard rock. It largely does what you're after or hoping for, but then shows a crack that you may have to run off with the chisel leaving you with something close, and sometimes altogether different, too. It often feels as if I get to open things that aren't intended to be opened, to look inside and reveal a process much, much larger than our perspective; a moment of a time long ago, of momentous change. 
Quartz Monzonite is a metamorphic stone. You can run wild with the metaphor of change there. That it was a sandstone that went through a tremendous change and emerged as something heftier, harder, and altogether different. After about five years of carving QM, I still can't read it through the weathered skin so it's almost always a surprise, the interior.