Exhibitions Steve Hilton: Altered Ground
Clay artist and geologist Steve Hilton investigates anomalies in the Earth's surface through large-sale, process-based installations. Altered Ground uses unfired clay marbles to create an undulating topography that functions simultaneously as abstract sculpture and as a microcosm of Breckenridge's extractive history. Collectively, the marbles produce a landscape reminiscent of mine tailings, mountains, rivers and other geologic features altered by resource extraction. An ongoing artwork, visitors are encouraged to roll marbles and add them to the composition. The title refers to both the visible and invisible results of climate change, natural resource depletion, water pollution and habitat destruction, while the cumulative art-making process references the need for collective action in addressing environmental issues. 
Breckenridge International Festival of Arts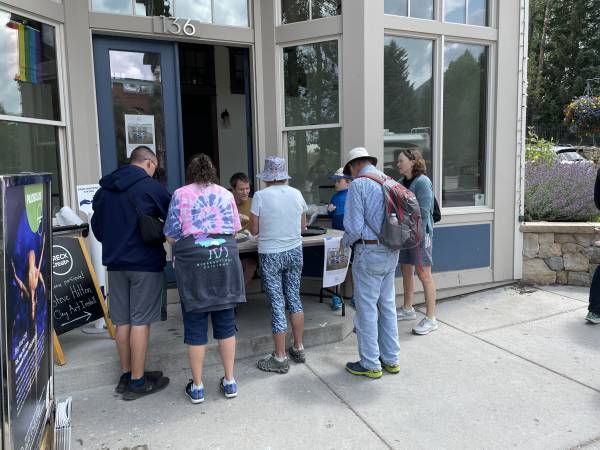 In creating Altered Ground, Hilton spent six days in and around Old Masonic Hall responding to both historical and contemporary Breckenridge. With the economic mainstay of the region evolving from gold, silver, and coal mining to tourism and snow sports, Hilton uses different-colored ceramic marbles to represent the area's ecological beauty and its extractive industries. The black marbles are made of fired clay while the white marbles are unfired porcelain.
From July 30 to August 5, 2022, over 1,000 gallery visitors helped roll the white marbles. The more people made white marbles, the closer Hilton placed them to the black ones. Throughout Breckenridge's history, some species (including humans) have lived in harmony with local flora and fauna, while others have slowly but noticeably encroached. Altered Ground asks viewers to exercise care and interact responsibly with nature, in the hopes that we better the planet for future generations.