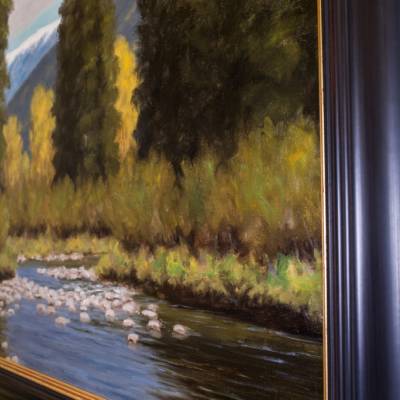 Public Art As Seasons Change
Cobblestones emerge as a dark lake recedes, its edges flanked by aspens glowing yellow against shrubby willows, tall evergreen spruce, immutable mountains, and sky. Landscape painter Stephen Day depicts an archetypal high country landscape on its march toward autumn in "As Seasons Change," an oil painting purchased from Breckenridge Gallery and donated by Susanna Chlipala to hang in the Riverwalk Center ticket office in honor of music lovers Jerome, Kenneth, and Wilfred Tomann.
Donated by Susanna Chlipala.
Artist
Stephen Day
From
Taos, New Mexico
Medium
Oil on canvas
Installation Date
2004