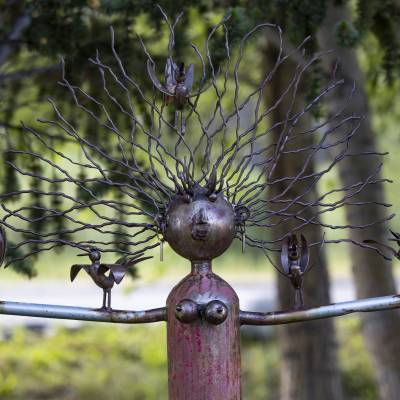 Breckenridge Recreation Center
Phillip Glashoff
When one discovers art in an unexpected place, it can bring the viewer a moment of wonderment.   Breck Create has found an ideal location for Bird Lady in a stand of trees at the Breckenridge Rec Center.  Her discovery by locals and guests will enrich the Town, the Town's Public Art collection and the discoverer.   
 
We hope that seeing Bird Lady positioned among the trees in Breckenridge will nudge viewers to remember to listen to the songs, the beauty and flight of birds, look at the grandeur around them and smile with appreciation for this artful reminder.   
 
Public Art provides a line of communication between an artist, a town and the people who view it.  Sometimes that communication is about a historical event important in the community, or an individual whose life or service to the community is acknowledged, or a value that is meaningful to the town or perhaps, just perhaps, a bit of whimsy that makes the viewer smile!