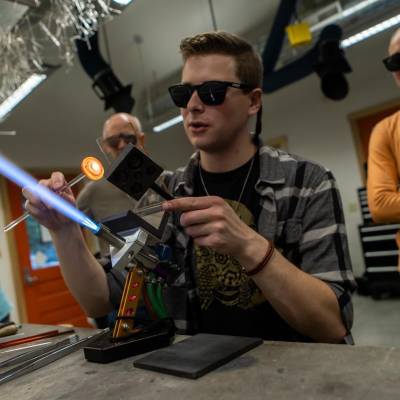 Learn the art of lampworking (a form of glassblowing) by developing and honing your skills. Work with a torch and flame to melt glass rods into works of art and explore the possibilities of Borosilicate glass. Your creativity will blossom as you craft pendants and marbles.
Safety is an extremely high priority in this class. Please wear natural fiber clothing (such as cotton or wool) and if possible, we encourage students with glasses to wear contact lenses. Glass pieces have to cool in a kiln overnight, but can be picked up the following day.
Pricing
Breck Create Members: $45
Non-members: $60
The cost of the class includes materials and use of studio equipment and tools.
Age Requirement
Participants must be 17 or older to participate.
Instructor
Jared Clauer
Check-in
For classes taking place on the Arts District campus, please check-in with the instructor at the class location.