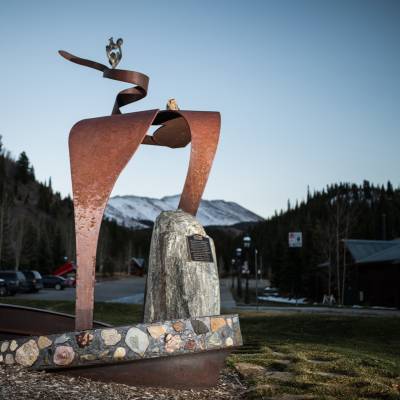 Public Art Chris Ethridge Memorial
An abstract sculpture of stone, steel, and bronze stands in memory of local firefighter and business owner Chris Ethridge, who lost his life at the age of 31. Town and community joined together to commission and shape the work, and sculptor Chaz della Porta reached out to loved ones for design inspiration. A large stone at the base of the piece, plus nearly 100 rocks gathered by friends and family, anchor Chris to the one-time mining community, while an abstract bronze form atop a curled wisp of rusted steel represents the transcending of his spirit.
Commissioned by the Chris Ethridge Memorial Committee and the Town of Breckenridge.
Artist
Chaz della Porta
From
Port Townsend, Washington; formerly Fairplay, Colorado
Medium
Stone, steel, and bronze
Installation Date
2003