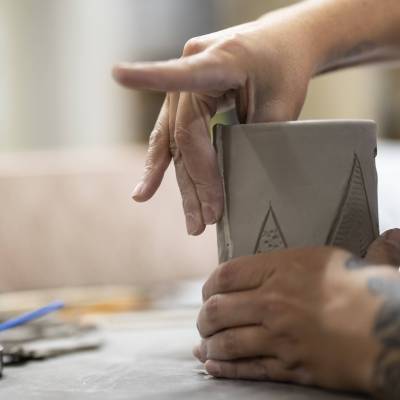 This class will experience clay hand building through the method of slab construction and slab manipulation, pinching and coiling to create decorative and also functional pieces. Projects will include cylinder vessels, slab boxes, tumblers, cups, and mugs. Each class will be a different project each session. This class will also explore techniques for surface decoration as well as texture techniques that will make your utilitarian pieces come to life with design.
Ceramics is a multi step process that takes many weeks for a completed glazed project. Kiln firings occur when there is enough work to fill the kiln. For ceramic glazing instructions and techniques, please consider taking the Ceramics Glazing Class to complete your project.
Pricing
Breck Create Members: $23
Non-Members: $30
The cost of the class includes materials and use of studio equipment and tools.
Age Requirement
Participants must be 17 or older to participate.
Instructor
Beth Marcer
Check-in
For classes taking place on the Arts District campus, please check-in with the instructor at the class location.