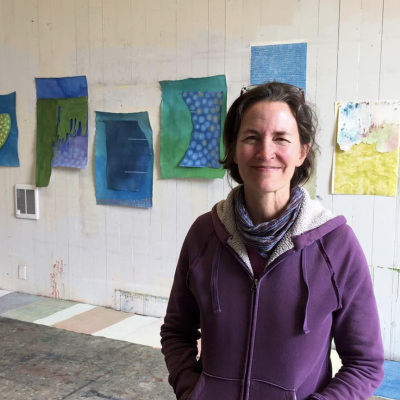 Artists in Residence Mary Robinson
Mary Robinson is a mixed-media artist living in Columbia, South Carolina, where she teaches and directs the Printmaking Program at the University of South Carolina School of Visual Art and Design. Robinson prints on repurposed fabric, old artwork and handmade paper, piecing elements together to discover new relationships in color and form. Her imagery is inspired by patterns and rhythms in nature, for example, the cratered surfaces created by methodical tapping of the acorn woodpeckers she observed while at an artist's residency in Inverness, California. In her work, she tries to express the energy she imagines underlying and connecting all living things.
Robinson received a BFA in Studio Art from the University of Colorado-Boulder, an MA in Art History from the University of Wisconsin-Madison, and an MFA in Printmaking from Indiana University-Bloomington. She first fell in love with printmaking while assisting Master Printer Andy Rubin at UW's Tandem Press.
from
Columbia, South Carolina
medium
fibers, printmaking
website
www.maryrobinson.studio
instagram
@maryrobinsonstudio
Community Art Project
While in residence at Breck Create, Robinson will work with the Summit County community to create a site-specific outdoor/indoor installation, titled Invitation, at the Robert Whyte House. The completed installation will be on view August 11-20 for the Breckenridge International Festival of Arts, during Robinson's open studio hours and AirStage Summer Après.